Quarantine Chronicles
Photoshop/Photography students created
a digital photo essay
of their experiences during the time of
social and educational distancing.
The juniors and seniors taking Photoshop/Photography were scheduled to see the Dorothea Lange Exhibition at the Museum of Modern Art on Tuesday, March 10, 2020. This field trip - as so many other events that are educational, ceremonial or social - was cancelled due to social distancing regulations imposed in March.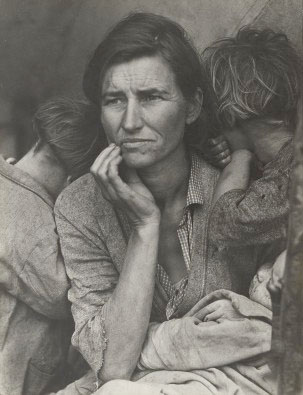 Fortunately, the MoMA adjusted quickly and expanded upon the on-line opportunities that the museum already had in place. Our students were able to view Dorothea Lange's work in the on-line gallery exhibition which included one of her most famous photographs, "Migrant Mother."
Students also watched a video of an interview with the artist. That interview began with Ms. Lange asking the question, "How do you tell others about what you think is worth telling?" If you'd like to watch the 3 minute interview, it is HERE.
Thus inspired, students were asked to create photo essays of their own, recording a sampling of their experiences during this time of social and educational distancing.
After multiple online critiques via Google Slides, evaluations and voting on Google Forms, students selected a title that encompassed their various takes on the theme. To further enhance their stories, students chose as a musical accompaniment the Phillip Phillips song, "Home" in which he reminds us "know you're not alone."
PLEASE CLICK ON THE IMAGE BELOW TO VIEW THE VIDEO,
A PHOTO ESSAY
We hope that you enjoy viewing this collaborative and creative project!
We commend the students in Mrs. LaBella's Photoshop/Photography class:
Jazly Alcantara '21 Jaimie Ammon '20 Celia Broderick '21 Julia Corbett '21
Victoria Cotza '21 Jordan Cowie '21 Amanda Dolis '21 Leanora Erickson '21
Sarah Furrelle '21 Reagan Hackett '20 Danielle Imperiale '20 Sasha Karajani '20
Maria Leni '21 Claire McMahon '21 Alexa McRedmond '20 Bella Nieto '21
Mairead O'Connor '21 Amanda Palma '20 Ananya Singh '21 Irene Tussy '20